Take a self-guided journey into well-being to cultivate personal transformation in mind, body, and spirit for personal and professional lasting growth.

This six module course includes Alisha Leytem's Six G.O.L.D. Keys to Well-Being Model with video trainings, worksheets, wellness trackers, guided meditations and more. Unlimited access is included so you can take the program at your own pace. Namaste!
Who Is This Self Study Course For?
Professionals who want to become more self-aware and upskill themselves to learn the tools to recover from or prevent burnout with a customized well-being plan and support.
Leaders who want to learn how to embody well-being so that they can coach and lead others to improve their well-being with the content and techniques they learn from this course.
Professionals who are trying to balance it all and are tired of feeling stuck personally + professionally and are seeking clarity and peace of mind.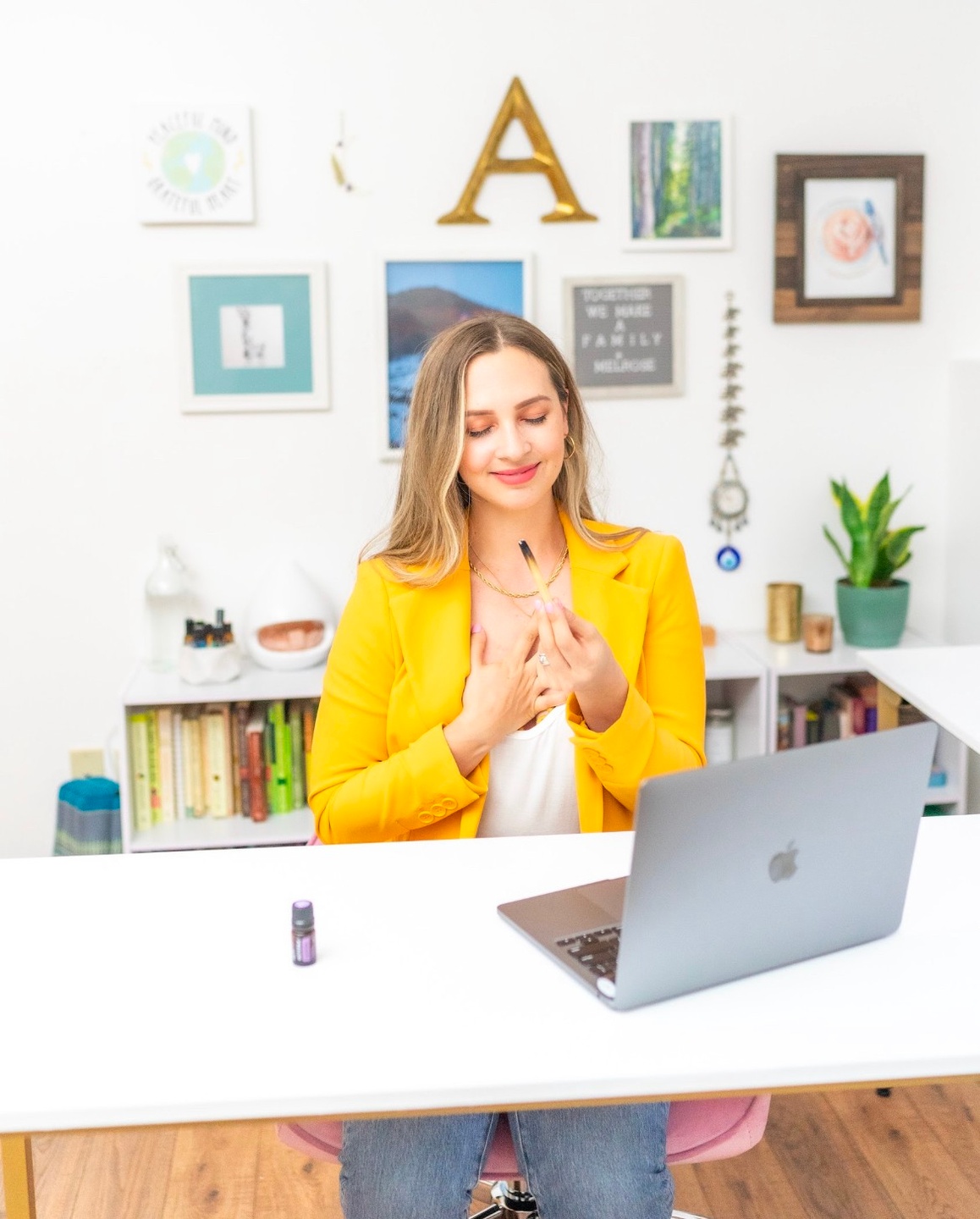 "Just wanted to let you know that I really enjoy your sessions and I started reading your book and I love how it is written. Your approach to life and your suggestions really resonate well with me. Very happy I signed up for this journey and how I am already benefiting from it through better sleep practices that I started putting in place shortly after first module. Looking forward to continue on the next modules."

Testimonial
Kasia, Senior Manager
BY THE END OF THE SELF STUDY COURSE,
YOU WILL HAVE:
Improved your sleep, your diet, your movement, your relationship with nature and your mental, spiritual and emotional health
Mastered the skill of knowing how to relax and regulate your nervous system (and improve your ability to respond to life's challenges with ease).
Improved your mindfulness skills and become a person who is calm and successful
Become the person who can "quiet their mind" and meditate regularly
Reduced the overwhelm of wellness and have created a lifestyle that fits your own unique needs
Learned new coaching and leadership skills to improve the well-being of your teams and clients
Have given yourself a well-being promotion with your toolbox and techniques for well-being
JOIN NOW
Hello! Alisha here. I genuinely believe you've been led to this page for a reason - and I am genuinely so excited for you as you consider taking a journey of unlocking your own well-being. I am so passionate about living healthy + happy because I know what it's like to feel helpless, unhappy and unhealthy. I remember what it felt like when I used to wonder ... "is this seriously it?" I know how the feeling of being so discontent, discouraged, and in constant state of stress about life in general.

I wanted to break free. I wanted to be at peace. I wanted to find contentment. I wanted to truly and completely be happy and enjoy my life. So I dove head first into my wellness journey. At first it felt selfish to making myself a priority. And then I started to become... happier. And people started noticing. And it began to make them happier. It started to become not so selfish anymore. It started to become bigger than me.
I experienced a complete paradigm shift of myself and life. I couldn't believe the amount of joy I was experiencing by learning and embodying true wellness in my day to life day. I was at complete peace and contentment and trust in myself and life... even when I was going through one of the darkest periods of my life.

Since that moment more than a decade ago I started sharing the tools that had helped me change my life. And it started to help others. And this whole "sharing wellness tools" has turned into my full on well-being framework where I consult companies Alisha Leytem Wellness and coach people on. I even wrote a book on it, The Six Gold Keys to Well-Being.

Life can be so magical and beautiful and energizing and fulfilling.
We just have to finally realize that making it a priority for ourselves is serving everyone around us.
The tools I teach in my well-being framework are both ancient practices and modern mindset work that change lives. My specialty is making the journey to wellness clear, simple, and totally possible - no matter what stage of life you are in. I invite you to take the leap of saying YES to having the support, community, and guidance on your journey to well-being. You hold the keys to unlocking the health and happiness within you - are you ready to unlock the door? The magic happens in the YES!


Namaste,
Alisha Leytem
THE MODULES OF THE SIX GOLD KEYS TO WELL-BEING
MODULE ONE: THE KEY OF SLEEP
In this module you will learn:
1. The Power of Sleep to Stay Sharp, Stress-Free and Successful
2. What is "Sleep Revenge" and How to Approach Sleep as Self-Care
3. Natural Tools to Improve The Quality of Your Sleep (Including Yoga, Meditation, Supplements and More)
---
MODULE TWO: THE KEY OF NUTRITION
In this module you will learn:
1.The Brain-Gut Connection: Improving Brain Health by Unlocking Your 2nd Brain
2. The Impact That Your Diet Has On Your Stress and Well-Being
3. Tools for Eating Real, Seasonal Food - No Matter How Busy You Are!
---
MODULE THREE: THE KEY OF MOVEMENT
In this module you will learn:
1. How to Boost Happiness, Confidence and Resilience with Movement
2. How to Makeover Your Mindset Around Movement and End Procrastination and Bring Fun Back In
3. Alisha's Approach to Balanced Workouts with "The Golden Movement Trio"
---
MODULE FOUR: THE KEY OF NATURE
In this module you will learn:
1. The Overlooked Foundation for Health + Well-Being and Healing From Nature Deficit Disorder
2. Real Nature Tools: Grounding, Forest Bathing, Negative Ion Exposure
3. Powerful Tools to Bring Nature Into Your Daily Life (At Home and The Office)
---
MODULE FIVE: THE KEY OF MINDFULNESS
In this module you will learn:
1. What Mindfulness Is And How To Practice It Daily (Without Adding Another Task to Your To-Do List)
2. Better Living and Leading Through Mindfulness
3. Real Mindfulness Practices: Gratitude, Meditation, and Breathwork
---
MODULE SIX: THE KEY OF INTENTION
In this module you will learn:
1. Intentions For Your Authentic Power and Why Intentions are Not Goals
2. How Intention Setting Can Make You Happier Everyday
3. Five Steps to Setting Powerful Intentions
---
"Alisha Leytem's holistic approach to leading a healthier lifestyle has changed my life! For those of you who haven't checked out her books or trainings, I highly recommend. Likely you've not participated in any workshops or trainings quite like hers! I promise you will take away something new. Think outside the box! Be opened minded! Take the jump, try something new!"

Testimonial
Megan, HR Leader
WHAT'S INCLUDED:
Six Video Training Modules
The Six Gold Keys to Well-being Book (PDF)
Course workbook & worksheets
Guided meditations, affirmations, and more with each module
I am super busy - will I have time for this program?
How long do I have access to the course?
Will I be able to ask Alisha questions?
I have a unique question!